Moterum Technologies: 2020 in Review
As 2020 comes to a close, we look back in gratitude for the support we have received in our efforts to serve the population of neural survivors. Below, we provide a summary of Moterum's 2020 efforts and milestone achievements.
This year, we were thrilled to officially launch our Moterum iStride Solution! This unique gait treatment tool incorporates many of Moterum's patented technologies and scientific efforts into a comprehensive gait solution. The Moterum iStride Solution incorporates:
The iStride gait device: designed for home use and clinically proven to improve gait function and reduce fall risk device
iStride sensors: specialized movement sensors which detect specific gait pattern details
The Moterum App: interactive rehabilitation platform facilitating communication and tracking of outcomes between patient and clinician
Moterum's VRC platform is designed to provide a virtual rehabilitation clinic experience by extending rehabilitation services into the home environment. Our highly specialized platform provides unique features including:
– A comprehensive exercise library of over 1,200 unique, recorded exercises
– Integrated telehealth capability for remote face-to-face communication between therapist and client
– An artificial intelligence (AI) engine for treatment plan development (fully customizable by therapist)
– Integrated sensors (gait, general activity, and heart rate) for improved outcomes and usage tracking
– This comprehensive platform allows clinicians to extend vital rehabilitation services to those desiring home-based care!
We were grateful to receive special recognition for presentations given at several notable healthcare conferences this year including:
– 2020 "Digital Dynamo," Digital Orthopedics Conference of San Francisco (DOCSF)
– 2020 Pitch Finalist, AdvanSE Life Sciences Conference
In 2020, Moterum research was presented at FIVE influential rehabilitation conferences! These notable conferences included:
– American Physical Therapy Association's 2020 Combined Sections Meeting
– International Stroke Conference 2020
– American Congress of Rehabilitation Medicine's 2020 Annual Conference
– World Stroke Organization/European Stroke Organization's 2020 Conference
– American Academy of Physical Medicine and Rehabilitation's 2020 Annual Assembly
We were grateful for the opportunities to collaborate with fellow clinicians and researchers as well as share our efforts with the rehabilitation community!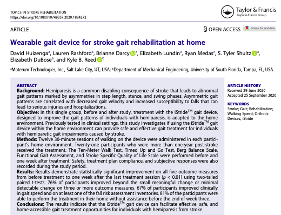 Manuscript Publications
Research from Moterum's clinical trials was featured in several reputable rehabilitation journals.
– Moterum's manuscript "Wearable gait device for stroke gait rehabilitation at home" was published in the rehabilitation journal, Topics in Stroke Rehabilitation. This manuscript featured results of a 4-week, home-based, iStride treatment protocol for stroke survivors with impaired gait.
– Abstracts from Moterum's conference presentations were published in:
     International Journal of Stroke
     Archives of Physical Medicine and Rehabilitation
     PM&R
     Stroke
Additionally, research utilizing the 9zest / Moterum platform to facilitate exercise for individuals with Parkinson's disease was published in JMIR mhealth uhealth.
Community Impact
The reason we do what we do – feedback from our clients provides the motivation which drives our efforts. Scroll through the gallery for client quotes and visit our blog for more success stories!
We thank you for your support in 2020 and look forward to sharing our continued efforts in the new year!
The Moterum Team