Telemedicine: Here To Stay
By: Brie Darcy, PT, DPT.
To say our daily routines have changed since the coronavirus outbreak would be an understatement. While many of us adjust to social distancing and stay at home orders, the world around us is also adapting. Virtual communication, distance learning, online grocery delivery – these are just a few of the noticeable changes. In order to meet the evolving individual and public needs during this global health crisis, unprecedented changes are occurring within many sectors of our economy. On the frontline, as you can probably guess, is healthcare.
If you have had a non-urgent doctor's appointment scheduled recently, there is a good chance you've been asked to either reschedule or take your appointment "virtually" using telemedicine. 'Telemedicine' is defined as the practice of medicine when the doctor and patient are widely separated using two-way voice and visual communication. In the present day, this relates to interacting with your doctor, or medical team, through communication devices including tablets, iPads, and computers. In the current medical climate, a distinct benefit of telemedicine is quite clear – to avoid exposure and limit the spread of COVID-19.
A Brief History
While this might sound like a modern invention, many are surprised to learn that telemedicine has actually been around for a very long time. Although its origins are somewhat disputed, telemedicine is believed to have its roots in ancient civilizations. To illustrate, hundreds of years ago, communication forms including smoke signals and horns were used not only to warn of approaching military threats, but also to relay important medical information including disease outbreaks, plagues, births, and deaths. The ability of physicians to treat patients from a distance advanced through the decades in parallel with inventions including the telegraph, telephone, and television. In more recent times, telemedicine became beneficial to monitor the health status of astronauts in space. However, it was not until the invention of the internet (and especially the development of portable home-use devices such as smart phones and laptops) that telemedicine really began to take off and become more mainstream.
The Fast Growing Sector of Healthcare
Even before the spread of COVID-19, the field of telemedicine (also known by its broader term 'telehealth') has been growing rapidly. In fact, from 2015 to 2017, utilization of telehealth averaged an annual growth rate of 52%1 making it the fastest growing sector of healthcare.2 The increase in demand for telehealth has been building at a significant rate. While our lives become increasingly productivity-focused, telehealth users describe large gains in convenience by eliminating transportation, travel time, and waiting rooms. In addition, improved access to care (especially for individuals living in rural environments), limiting illness exposure, and lower cost appear to be key drivers for this trend.
Skeptics, however, may question if the quality of care is comparable to in-person medical visits. As more research becomes available, the exciting answer to that question appears to be yes! A recently published article summarizing 20 telehealth studies found that "in most cases, telehealth appeared to be equivalent to in-person care."3 Additionally, telehealth scores very highly in patient satisfaction. A survey of 1734 individuals who had received telehealth services showed that between 94% to 99%  reported being "very satisfied" with all telehealth attributes.4 Effectiveness, in combination with convenience, reduced illness exposure, and reduced cost,5 make telehealth an exciting prospect for addressing one's medical needs.
Following the success of telemedicine, these principles have expanded into other branches within the medical field. One such field is physical therapy or rehabilitation. This subset of telemedicine, appropriately termed 'telerehabilitation,' can be described as the delivery of rehabilitation via information and communication technologies. Regarding quality of care and outcomes, remarkably, researchers have found that care delivered via telerehabilitation was "generally either equivalent to or yielded better outcomes than in-person care."3 
If you or a loved one is a survivor of neurologic injury, you may be wondering if telerehabilitation could be right for you. Luckily, new research is aimed at answering this exact question.
Telerehabilitation and Stroke Care
Several recent studies have examined the effectiveness of telerehabilitation specifically for stroke survivors. A recent study in JAMA Neurology focused on stroke survivors with arm weakness (specifically comparing a 6-week intensive home-based telerehabilitation treatment with traditional, in-clinic rehabilitation).6 Interestingly, results showed a similar amount of improvement between telehealth and in-clinic rehabilitation for the improvement of motor status and stroke knowledge. The authors also stated their belief that telerehabilitation has the potential to substantially improve access to rehabilitation care on a large scale.
Another article published in the last year (called a 'systematic review') focused on summarizing all recent research on telemedicine and stroke rehabilitation in general. This article looked at 22 individual studies comparing stroke survivors who received telerehabilitation versus those who received traditional, in-person, rehabilitation. Results concluded that telerehabilitation interventions were just as effective as traditional therapy for the areas studied. Moreover, telerehabilitation actually OUTPERFORMED traditional therapy in 8 out of the 22 studies.7
Interested in Experiencing Telehealth for Yourself?
At Moterum Technologies, we are focused on improving the lives of survivors of neural injuries and their loved ones through innovative rehabilitation technologies. Given the proven effectiveness of telemedicine, we have fully embraced this movement and created custom telerehabilitation offerings. 
The Moterum Digital Health Platform, and the accompanying Moterum App, is a comprehensive, fully digital, telerehabilitation treatment platform. Designed for individual and commercial use, this solution allows the treatment of neurological and orthopedic conditions including stroke, Parkinson's disease, and chronic pain all from the home environment.  Generated by artificial intelligence technology and customized by physical therapists, this platforms provides individualized treatment plans designed to achieve your rehabilitation goals. To provide the highest level of expertise and convenience, users will also be able to engage in real-time communication via connected devices with medical team members (including their personal physical therapist). Additionally, a comprehensive library of  approximately 1,500+ exercises and therapy videos will personalize this rehabilitation experience.
During the coronavirus pandemic, now, more than ever, telemedicine and telerehabilitation platforms provide valuable healthcare solutions to mitigate COVID-19 exposure for patients and providers. For physical therapists and other rehabilitation professionals, this platform facilitates an extension of services from the clinic to home allowing continuity of important rehabilitation care. In an effort to improve consumer access, coverage for telehealth has been expanded and many Medicare and private insurance restrictions have been lifted.8 Consider investigating your personal coverage options today. 
We'd love to tell you more about our custom solutions which extend healthcare into the home environment. Join our mailing list or reach out to us here. We look forward to hearing from you!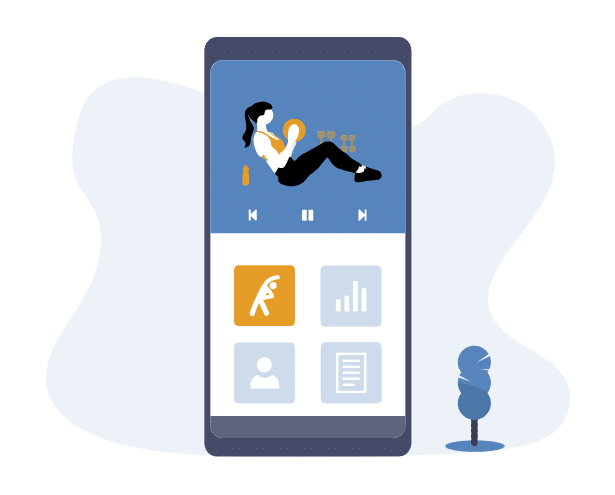 References
Barnett ML, Ray KN, Souza J, Mehrotra A. Trends in Telemedicine Use in a Large Commercially Insured Population, 2005-2017 Trends in Telemedicine Use in a Large Commercially Insured Population, 2005-2017Letters.

JAMA.

2018;320(20):2147-2149.

Mechanic OJ, Kimball AB. Telehealth Systems. In: Treasure Island (FL): StatPearls Publishing; Jan 2019.

Shigekawa E, Fix M, Corbett G, Roby DH, Coffman J. The Current State Of Telehealth Evidence: A Rapid Review.

Health Aff (Millwood).

2018;37(12):1975-1982.

Polinski JM, Barker T, Gagliano N, Sussman A, Brennan TA, Shrank WH. Patients' Satisfaction with and Preference for Telehealth Visits.

J Gen Intern Med.

2016;31(3):269-275.

Tchero H, Tabue Teguo M, Lannuzel A, Rusch E. Telerehabilitation for Stroke Survivors: Systematic Review and Meta-Analysis.

J Med Internet Res.

2018;20(10):e10867.

Cramer SC, Dodakian L, Le V, et al. Efficacy of Home-Based Telerehabilitation vs In-Clinic Therapy for Adults After Stroke: A Randomized Clinical Trial.

JAMA Neurol.

2019.

Sarfo FS, Ulasavets U, Opare-Sem OK, Ovbiagele B. Tele-Rehabilitation after Stroke: An Updated Systematic Review of the Literature.

J Stroke Cerebrovasc Dis.

2018;27(9):2306-2318.

8.

US Department of Health and Human Services. https://www.hhs.gov/about/news/2020/03/17/secretary-azar-announces-historic-expansion-of-telehealth-access-to-combat-covid-19.html

. Accessed April 7, 2020.