Moterum Research Presented at APTA's Combined Sections Meeting and the International Stroke Conference
The Moterum research team was busy this month!
February hosts two of the medical field's most significant rehabilitation-related events – The American Physical Therapy Association's  Combined Sections Meeting (CSM) and the American Heart Association's International Stroke Conference (ISC). At Moterum Technologies, we were thrilled for the opportunity to present our research at both of these impactful events!
APTA CSM Conference
The annual APTA CSM Conference is the largest physical therapy event in the country. This year was no exception with a record-breaking 18,000+ attendees from 30+ countries! The guest list is extensive within the field of physical therapy – clinicians, researchers, students, educators, policymakers, and innovators. We were grateful for the opportunity to collaborate with our physical therapy peers, stay abreast of rehabilitation policy and industry happenings, and, most importantly, share our exciting work with our rehabilitation colleagues! Moterum researchers presented results from our most recent iStride device™ clinical trial performed in the home setting. These results revealed important functional benefits after iStride device™ treatment, including increased walking speed, improved functional balance (including a reduction in fall risk), and higher quality of life – all achieved after only 12 treatment sessions in the home environment.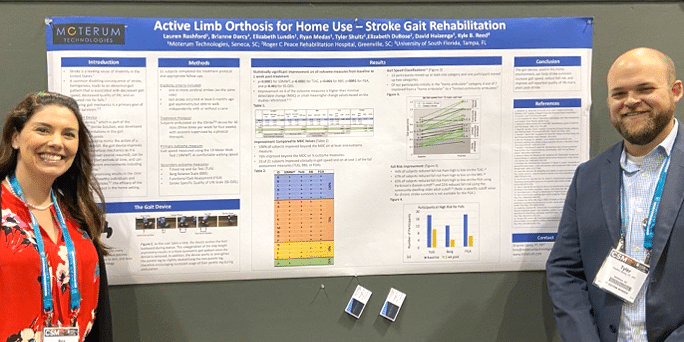 International Stroke Conference
The International Stroke Conference is the world's premier meeting dedicated to the science and treatment of cerebrovascular disease. This prestigious event features world experts from all aspects of the medical industry dedicated to stroke management, including physicians, surgeons, nurses, therapists, and researchers. Presentations were impactful and encompassed the entire continuum of stroke care, including prevention, emergency care, imaging, diagnosis, in-hospital treatment, quality improvement, recovery, outcomes, and clinical rehabilitation. Moterum researchers presented exciting new findings on the relationship between the speed of one's walking and their quality of life after treatment with the iStride device™. This research provides objective findings that improving one's walking speed may benefit more than their mobility may have unique relationships with their quality of life (as well as related factors such as mood and personality).
If you or a loved one is facing the challenging consequences of a stroke, we hope you may find comfort knowing the multitude of minds working to combat the effects of this disease. We were extremely grateful to collaborate and share our work with many of the nation's (and world's) leading stroke clinicians and researchers at these unique and inspiring events. Together we will continue our mission to improve the lives of those affected by stroke.